Travel Town is a train museum that is perfect for kids. There is an inherent fascination with trains, young and old alike. This place taps into that wonder and amazement. There's something about Travel Town family photos that makes them unique and fun. But just look for yourself to see what we mean!
Starting the Family Photos on Train Tracks in Travel Town
We started on train tracks, which are the safest train tracks ever to shoot on. Train tracks are notorious for accidents, and we always put safety above getting family photos.
Then we got some family photos with the newborn. We love how almost any child smiles and giggles when in the air.
Then we got the whole family together with both of the two sons in the family portrait.
There is a classic look to the trains and train tracks, and this next family photo captures that look and feel.
More Travel Town Family Photos with Trains
We walked over to the other side of the Travel Town museum, getting more family photos with the trains.
The trains are in rows, giving a great disappearing point for the composition of the image.
And here's an adorable family photo of the two brothers hanging out on the end of a train.
And this reaction from the older brother is just too cute!
And Some More Family Portraits with Fall Leaves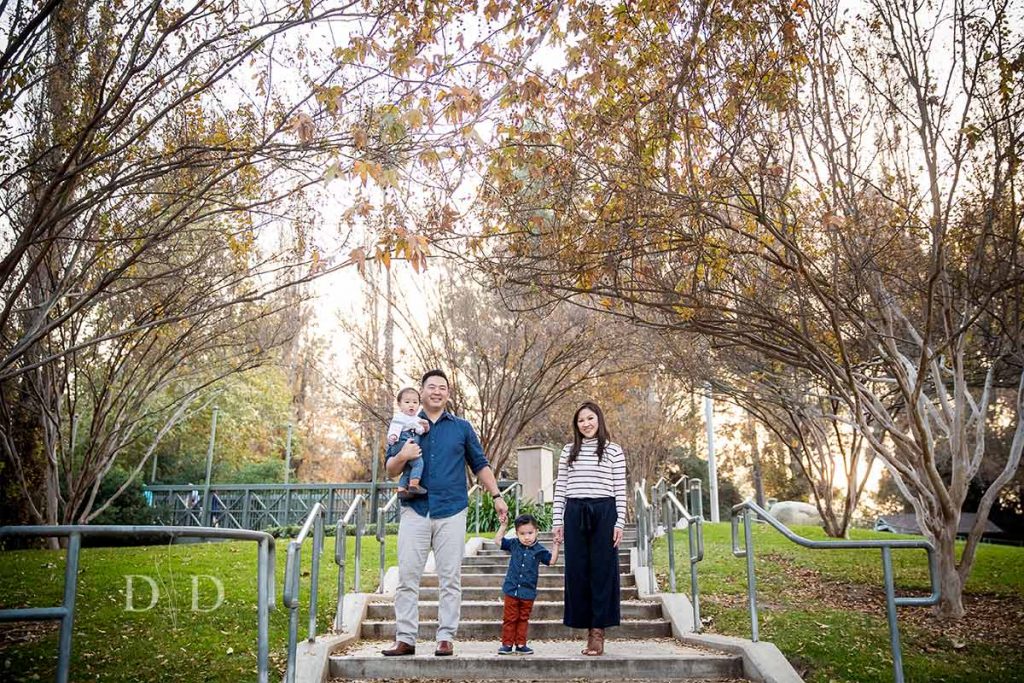 Travel Town Family Photos
This is a family photography portrait session at the Travel Town Museum in Griffith Park in Los Angeles. It's a local treasure, bringing trains and a lot of history behind them to Los Angeles. It also makes a great backdrop for family photos, especially for kids that love trains. Family photos with train tracks can also be done safely and easily. This is a family with two sons, one a toddler and one an infant newborn. The main shed at the Travel Town Museum holds many different exhibits, including locomotives and sleeping cars. Some of them have places you are allowed to climb and explore, along with some cars that are open to walk through.
Feel free to take a look around our website, where dozens of family photography sessions done by Judy are on display. We have many different types of portrait sessions, all organized by different characteristics. Here's a page that has all of the family photos with two sons or brothers, like this one above has. It's helpful to see other family photography sessions that might resemble your own, though Judy always finds a way to make each family be itself and shine as itself.